Akira Nakabou
Character information
Rōmaji
Nakabō Akira
Alias
Chuubou
Gender
Male
Age
14
Status
Affiliation
Deimon Devil Bats
Jersey
54
Position
Lineman
Team
Team Japan (Youth World Cup)
Deimon Devil Bats (high school)
Debut
Chapter
308th Down
Voice actors

Image gallery

Akira Nakabo (中坊 明, Nakabō Akira), nicknamed "Chuubou", is a middle school student who participated in the World Youth Cup under Team Japan.
Appearance
Personality
Plot
Youth World Cup Arc
Chubou has greatly admires Sena Kobayakawa's running so he wants to join the Deimon Devil Bats when he attends high school.
Although he admires Sena's running, his position on the team is as a lineman. His given position seems to be a wise decision because he is able to perform the "Delta Dynamite," a block that needs precise timing which hits three points and causes the victim to lose balance (judging from chapter 311, when Chuubou uses the Delta Dynamite and stops Takeru Yamato and at the same time throws him off balance).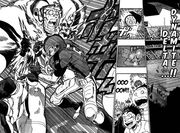 In the same chapter, Rikiya Gao exhibits interest in Chuubou after seeing his move. After the game against Russia, Gaou challenges Chuubou, which results in the latter losing. This causes Chuubou to train using the "Delta Dynamite," and eventually he teaches his senior and fellow lineman the technique. During the aftermath of the World Youth Cup, Chuubou finally becomes a member of the Deimon Devil Bats team.
Techniques and Abilities
Delta Dynamite: A blocking technique that involves ramming the enemy with the head, shoulder and fist simultaneously in a delta shape, which makes the block three times more powerful.
Relationship
Etymology
The name Akira means "bright" (明).
Akira's surname Nakabo means "middle" (中) (naka) and "priest's lodge" (坊) (bo).
References